Antarctica is about as close to being on another planet as you can get while still on Earth. Its 5.5 million square miles have been covered in ice for 35 million years, the average summer (December–February) temperature at the south pole is -18°F, and the ice sheet covering the land averages 1 mile thick and contains over 70% of the world's fresh water. Antarctica is entirely surrounded by the Southern Ocean, which allows the west-to-east winds to tear along unimpeded, whipping up tremendous waves and storms.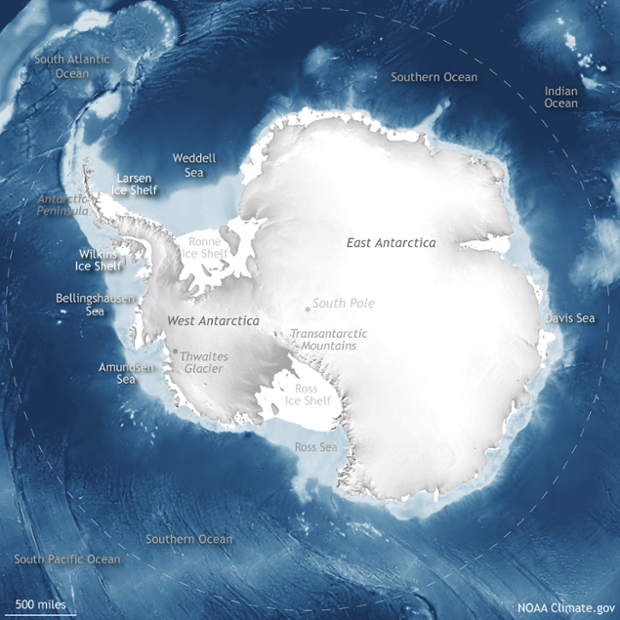 Geographers divide Antarctica into three regions: East Antarctica, West Antarctica, and the Antarctic Peninsula. The Transantarctic Mountains separate the eastern and western parts of the continent. Ice shelves fringe the continent, the two largest being the Ronne and the Ross. Among the nearby seas are the Amundsen, Bellinghausen, Davis, Ross, and Weddell, and Antarctica is surrounded by the vast Southern Ocean.

The continent is surrounded by seasonally varying sea ice. Sea ice extent can reach 7 million square miles at the maximum in September, shrinking to around 1 million square miles in February or March. Along the edge of the continent, numerous glacier-fed ice shelves are grounded below sea level, with floating tongues that reach out as far as the balance between gravity and buoyancy allows.

When the balance fails, portions of the shelf break off into icebergs, a natural process known as calving. In recent decades, some shelves have disintegrated rapidly. These processes don't directly contribute to sea level since the ice was already floating in the ocean. But grounded ice shelves slow down the free flow of interior glaciers into the ocean, keeping their glacial contribution to sea level rise in check. Also, grounded ice can contribute to sea level rise when it is melted by warmer ocean water from below. For more detail on ice shelves and glacial acceleration, check out this great climate.gov overview of Antarctic ice.
Glacier-fed ice shelves are complex systems affected by multiple factors: gravity pulling on the glacier, water buoying the ice shelf, air and water temperatures, winds, storms, snow accumulation and so on. Atmospheric and oceanic circulation patterns can drive these events, and ice shelf responses can change the outcome. This schematic of Thwaites Glacier in West Antarctica shows some of the processes affecting glacier flow and ice shelf calving. Image from Scambos et al. 2017.

 Scientists are acutely interested in how different climate patterns—such as ENSO—and global warming are affecting the Antarctic ice shelves, because of the potential contribution to sea level rise. And because it's a fascinatingly complex system unlike anything else on Earth!