In order to learn more about the market of coastal flooding, how tides contribute to it, and what other factors will affect it, we will turn to our "stockbroker" (coastal flooding expert), Brian McNoldy (visit his website or Twitter @BMcNoldy. At the University of Miami Rosenstiel School of Marine and Atmospheric Science (RSMAS) Brian studies tropical cyclones with a large interest in sea level rise and climate. We interviewed Brian for some much needed "advice" about coastal flooding in a vulnerable region in the U.S.: south Florida (also home to Seasoned Chaos).

Q: Are King tides getting higher?

Decade by decade, sea level is rising… globally and locally. So, all other things being equal (which they basically are), all tides are higher now than they were 20, 40, 60 years ago. They are more noticeable when they result in flooding of course, so that is what gets the attention. In southeast Florida, we have seen an average increase of about 5.5 inches in the past 25 years (~5.6 mm/yr). Some years, the elliptical orbit of the moon allows its closest approach to Earth to exactly coincide with a new or full moon – and there was a perigean new moon on October 16th this year.**

Q: How is sea level rise contributing to coastal flooding events?

Up and down the U.S. East Coast, coastal areas are experiencing alarming sea level rise rates. South Florida is in that span of course, but places like Annapolis MD, Norfolk VA, Wilmington NC, and Charleston SC are seeing even more rapid rises than we are. The culprit (or a culprit) seems to be a lethargic Gulf Stream. Excessive ice melt from areas in the far northern Atlantic could be altering the large-scale ocean circulation, and one component of that is the Gulf Stream. When it slows down, water along its route piles up: that route happens to be parallel to the U.S. East Coast. The Florida Current (part of Gulf Stream) is weakest during October and water piles up along the Florida east coast.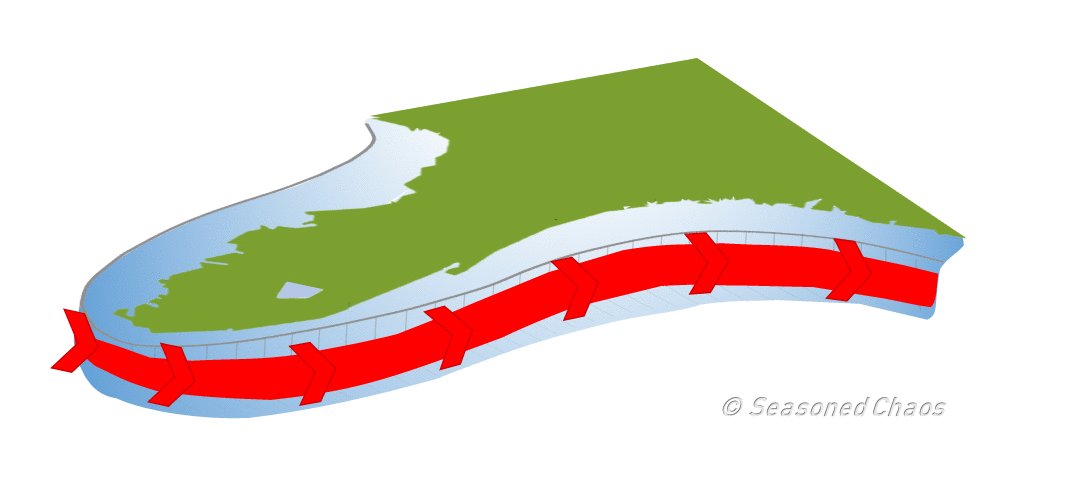 Here we show what Brian is talking about: a slowing Gulf Stream can cause a "build-up" of water along the coast!

Q: Can we predict where coastal flooding will occur?

Yes, mostly. High-resolution maps with detailed elevation data allow for rather accurate illustrations of what areas will flood when the water level reaches some threshold. Predicting the exact maximum water level in advance is tricker, but often the exact value doesn't matter so much. Just highlighting the areas that are at high risk and the timing of that risk can be quite helpful to cities, residents, and businesses. In other words, telling someone in advance that the tide will peak at 2.12' MHHW at 10:15am is fine, but is unrealistically and unnecessarily precise. Rather, advising that water levels could exceed 2' MHHW for the next four days for a few hours around each high tide is more realistic [similar to how we have explained the usefulness of probabilistic forecasting in this blog post!].